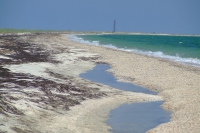 Tendra Spit is a sandbar in Black Sea near the coast of Kherson Oblast in Ukraine. The island serves as a separation of Gulf of Tendra from Black Sea located at the southern and western part of the bay. In the west the island has a spit Bili Kuchuhury which stretching east through the Gulf of Tendra as a shoal reaches the Yahorlyk Kut peninsula.

All pictures on this page was created in May 2016.

See also: Video of Tendra Spit.